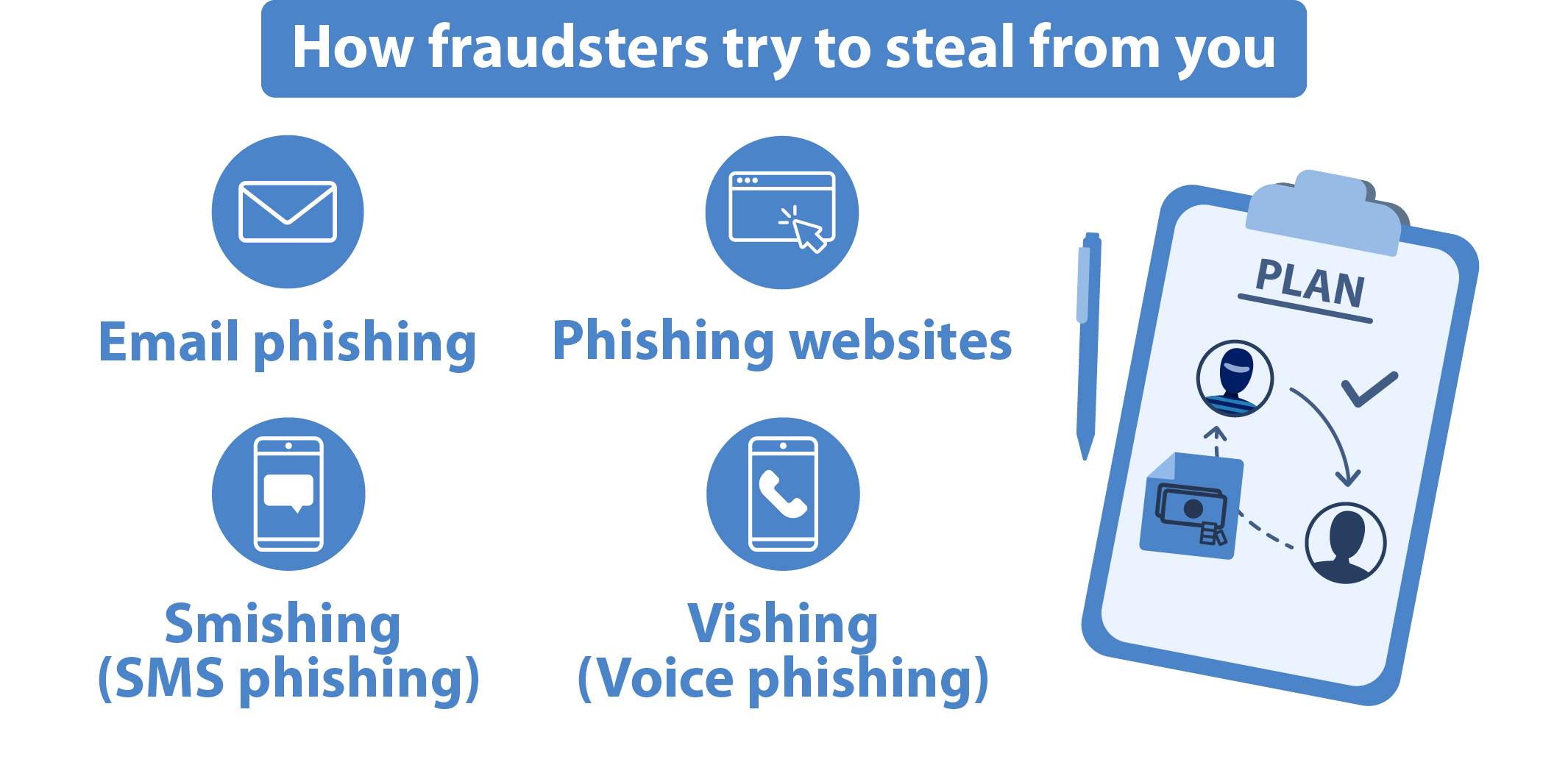 Fraudsters can steal your bank information in many ways. Remember, Metrobank will NOT initiate calls, SMS, emails or chats to ask for these details.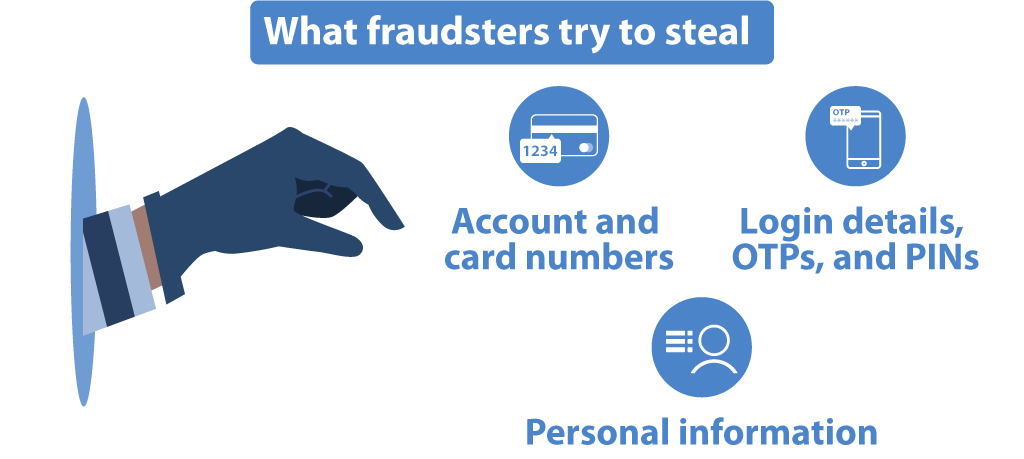 As long as you never share these details, you can help prevent fraud by not falling victim to scams.
---
Knowing is the first step to preventing yourself from becoming a victim of fraud. Here are the common types of fraudulent activities that target banking customers:
Phishing
Phishing doesn't just happen over the phone; it can happen on the Internet as well. Online phishing is one of the most popular forms of online banking fraud. Fraudsters send victims an email that mimics one from a legitimate bank email address or payment site and redirects users to a fake website. The fake website also mimics the login page of the legitimate banking site. The fake site will then ask users to update their personal information which they will use to hack the user's account or steal their identity.
You can spot phishing scams through these red flags:
Incorrect or misspelled URLs: The URLs will be similar to a bank's legitimate URL, with a small, easily missed error. For instance, instead of Metrobank.com, it may be Mettrobank.com. Beware though, because phishing scams are getting trickier to spot.
Spelling and grammar mistakes: Errors within the email are a clear indication that it is a scam. Legitimate emails sent from the official email addresses of banks will be free from grammatical errors and spelling mistakes.
Request for information: If the email is requesting you to update your information immediately because your account is being terminated or to expect a call from a representative so you can update your information, it may be a scam.

Vishing / Smishing
Also called "voice phishing/ SMS phishing". These are types of fraudulent activities where fraudsters call or send you an SMS, tricking you into giving personal and account-related information, such as your PIN, card verification value (CVV), and one-time password (OTP). These types of fraud use unknown numbers to contact you. The other person on the line then pretends to be a bank representative who is contacting you to verify your account details with a sense of urgency. We will NEVER ask for personal and account-related information over the phone.
Account Takeover
This fraud takes place when a fraudster seizes control of an online account, changes information such as the username, password or other personal information, and then makes unauthorized transactions with that account. One of the fraudster's modus is to pretend as a bank representative and ask the client to surrender his/her online account or debit card information due to a system update or in exchange for freebies.
Money Mule
This type of fraud involves you receiving money that is illegally obtained with or without your knowledge. As a money mule, you are often paid to receive stolen money into your account and are instructed to wire a portion of that said money to a different account. Victims of this type of fraud are often unaware that they are committing fraud and money laundering.
Identity Theft
This is a form of deception where someone steals your personal information (such as name, date of birth, home address, social identification records, etc.) without your permission to commit fraud. Identity theft often happens when fraudsters or hackers trick you into divulging your personal information to apply for a credit card or other financial services, which can also ruin your credit ratings.
SIM Swap Scam
Another form of deception is the SIM swap scam. You fall victim to this scam when you're instructed to send a message to your network provider to activate a SIM upgrade. The instruction will also ask for your OTP or PIN. After you share these account details, your phone suddenly loses signal or stops working. The fraudster then takes over your mobile number and receives all incoming messages and calls, as well as your OTP for banking transactions.
Credit or Debit Card Fraud
This happens through the process of skimming. Fraudsters are able to duplicate a user's information found on the magnetic strip of a card (debit or credit). They can do this in a number of ways. They can do it physically by stealing your card. While they cannot withdraw from it without the pin, they can purchase items using the contactless or wave feature. Some fraudsters also invest in what is called an RFID reader and use it to duplicate the information of your card simply by standing close to you. The RFID reader can scan the card's information even if it is in your wallet and inside your pocket or bag. Sometimes, card fraud happens as you pay for a purchase in a restaurant or a retail establishment.
If you think you have become a victim of these fraudulent activities, call and report this incident to (02)88-700-700 or 1-800-1888-5775. You can also send us an email at customercare@metrobank.com.ph and use the "Report on Possible Fraud" a subject.