Get on with life without missing your payment dues. If you have recurring bills, enroll your bills with Real-Time Debit and pay on time and in full.
Real-time Debit lets you enjoy the following benefits:
Convenience – Monitor your payments easily. Payment transactions are reflected in your account statements and transaction history.

Efficiency – Enjoy a convenient alternative to post-dated checks and paying cash over the counter.

Ease of enrollment – Do a one-time enrollment by accomplishing an electronic Authorization to Debit Account through the Metrobank Mobile App.
Here's how to enroll and activate the feature: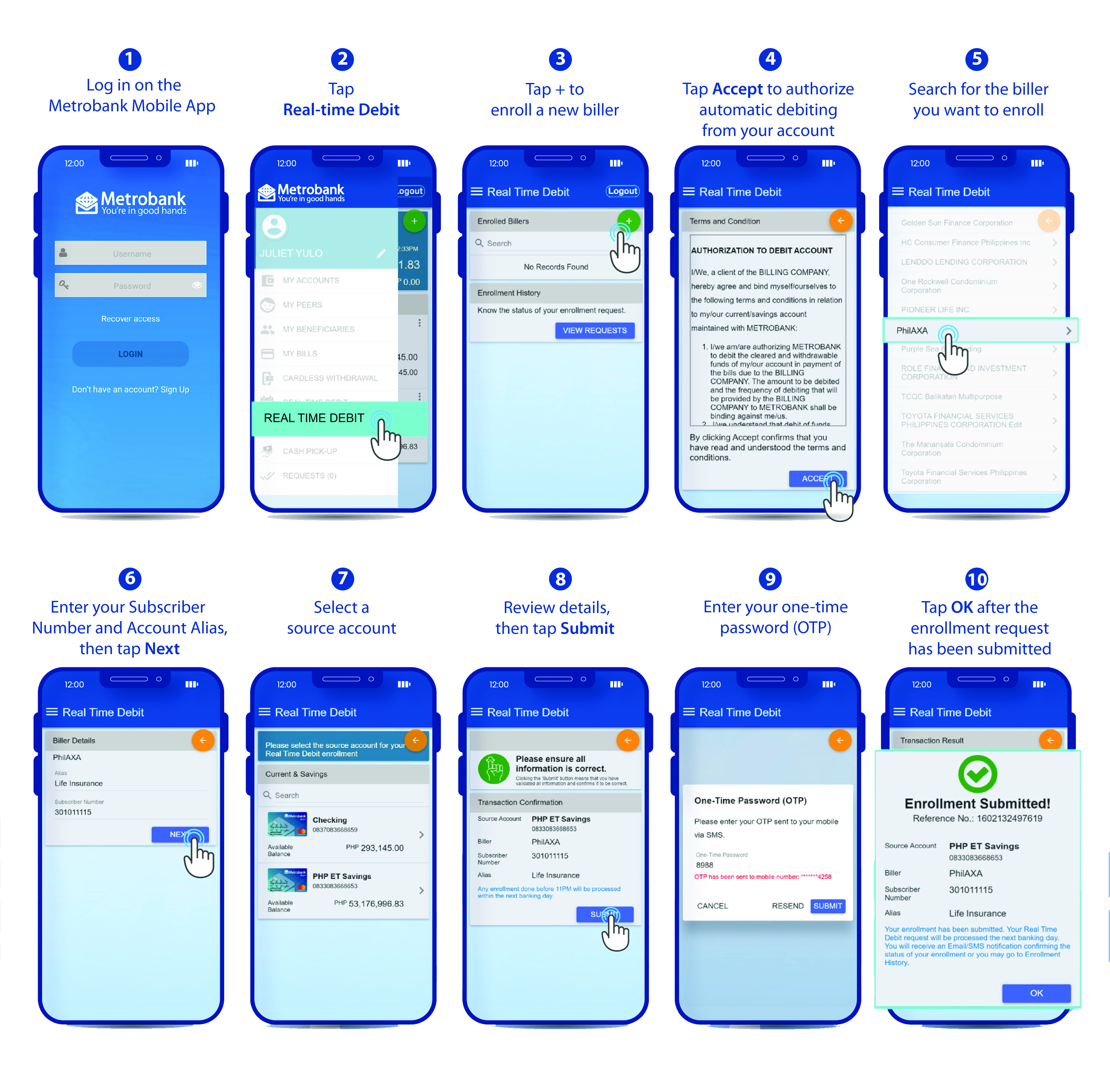 Here is a list of our partner billers

Allianz PNB Life Insurance Inc
Aboitiz Land Inc
AppleOne Banawa Heights Towers and Villas Condominium Corporation
Asiasource Financial Inc
Asiawide Land Specialist Development
Bria Homes, Inc
Charter Ping An Insurance Corporation Davao del Sur Electric Coop Inc
Deltapeak Lending Inc
FWD Life Insurance Corporation
First Metro Securities Brokerage Corporation
GSM Cebu Investors Finance Corp
HC Consumer Finance Philippines Inc
JGM Finance Corporation
Jaccs Finance Philippines Corporation
Livingsprings Communities Realty and Development Corp
Loudbox Studios Inc
Ortigas and Company Limited Partnership
Orico Auto Finance Philippines Inc
Property Company of Friends, Inc
PRU Life UK
Paramount Life and General Insurance Corporation
Perks and Benefits Solutions Trading Inc
Philippine AXA Life Insurance Corp
Singlife Philippines
Suy Sing Comm
The Manufactures Life Insurance Co (PHILS) Inc
Toyota Financial Services Philippines Corporation
Woodside Properties and Land Corp
You can also read through these frequently asked questions for more information.
You may also reach out to the Metrobank Contact Center through the following channels:
Landline: (02) 88-700-700
Domestic Toll-free: 1-800-1888-5775
E-mail: customercare@metrobank.com.ph