Metrobankdirect Personal is closing permanently on October 18, 2021. Please upgrade to the new Metrobank Online to avoid any inconvenience of setting up a new account.
With the upgrade to Metrobank Online, remember these important dates:
From October 18 to November 7
Metrobankdirect Personal is inaccessible. You are redirected to Metrobank Online where you can still use your existing username and password.
Upgrade to Metrobank Online at this time.
From November 8 onwards
Metrobankdirect Personal profiles are automatically deleted. Your login credentials will no longer be valid.
If you cannot upgrade to Metrobank Online, you must sign up and create a new account.
Follow these steps to begin your upgrade: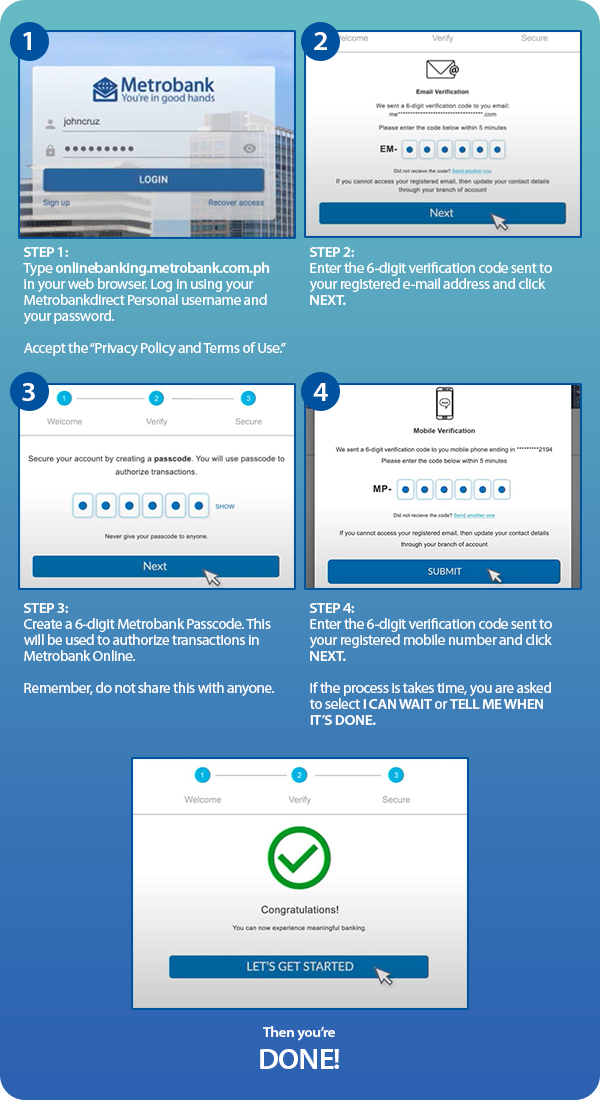 Your accounts, billers, and beneficiaries are auto-enrolled to Metrobank Online as soon as you move to Metrobank Online.
Make sure that you also have the mobile number and email address that you used to open your account.
IMPORTANT NOTES:
Some features you enjoyed on the Metrobankdirect Personal system are continuously being added into Metrobank Online.
We are working on making the Tax payment facility available for you soon
Viewing of transaction history is currently up to 30 days but we are working to make it up to 90 days.
After you log in and start using the new system, you will not be able to access these features until they become available. You will also not be able to log back into the Metrobankdirect Personal system after moving to Metrobank Online.
Check the e-mail from info@communications.metrobank.com.ph for the full details and the last day of your access to the Metrobankdirect Personal platform. To know how to upgrade to the new Metrobank Online, please watch the video.
To learn more about Metrobank Online and its features, go to https://metrobank.com.ph/mbonline