If there's a clickable link, it's a scam
Scammers often include clickable links in their messages. Clicking these links will take you to fake websites that ask you for sensitive information and put your security at risk.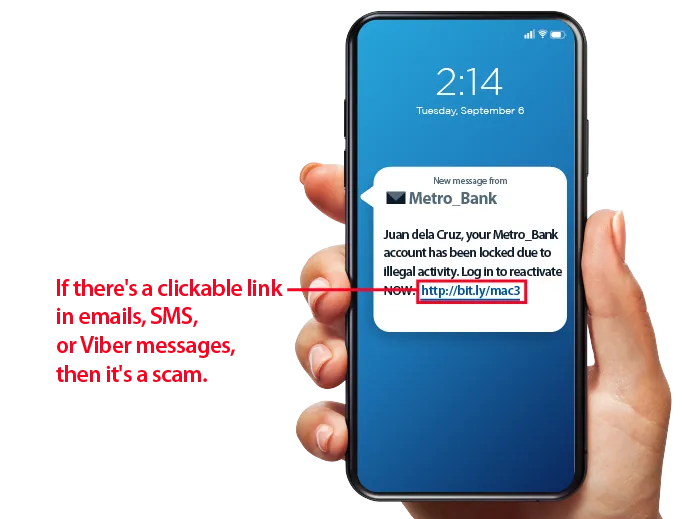 As scammers get more creative in their attempts to steal your information through links, we level up your safety and privacy.
From now on, our emails, SMS, and Viber messages no longer include links or buttons that you can click.
If there's a clickable link or button, it's not from us. DO NOT CLICK.
Here's what you should do if you receive a suspicious message:
- Do not click the link or button
- Do not respond to the message
- Never share your bank and personal information
- Report the incident to customercare@metrobank.com.ph, or call (02) 88-700-700 or 1-800-1888-5775
- Block the sender
- Delete the message
Remember, Metrobank will never ask you to share or verify your bank and personal information through texts, emails, chats, or phone calls.
Read BSP's recommended control measures against cyber fraud, including the removal of clickable links in messages sent to customers in Memorandum No. M-2022-015.
Clicking on the link will redirect you to the Bangko Sentral ng Pilipinas website where privacy policies and terms and conditions are different from Metrobank's.