CAR LOAN MECHANICS:
Promo Eligibility
All applications approved from September 1 to October 31, 2021 and subsequently booked up to December 31, 2021 shall enjoy a partial/total fee waiver, low interest rate and pre-qualified credit card.
All applications approved prior to September 1, 2021 are excluded from the promo.
Minimum amount financed of P350,000.00
Minimum loan term of 3 years (36 months).
Maximum loan term of 5 years (60 months)
Minimum down payment of 20% of the vehicle's net selling price
Applicable to purchase and reimbursement of brand new vehicles for private and commercial use (corporate facility).
Vehicles sourced from gray market dealerships are not qualified.
Promo Offering
Waived Fees up to P30,000 (inclusive of Security Interest Registration Fee, Documentary Stamp Tax(DST), and Notarial Fee ). Amount of waiver will depend on the loan term: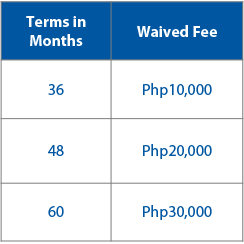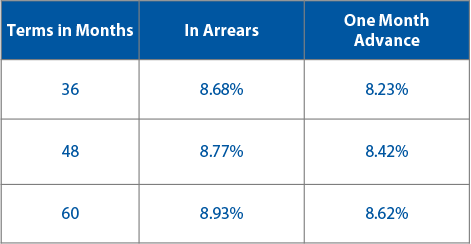 Pre-qualified Metrobank Toyota Mastercard credit card. The credit limit of the credit card will depend on the loan amortization:

Promo Conditions
The loan availed under this promo is subject to a lock-in period of 24 months (2years) from booking date.
During the lock-in period, the client:
-Shall not partially pay/pre-terminate/fully pay the loan.
-Shall not request for amendment of the originally approved terms and conditions, such as changes in rate or loan term.
In case of violation of any of the above conditions, client shall pay for the rate difference between the interest rate at the time of loan booking and the promo rate only.
All other loan related fees, such as but not limited to appraisal fee, handling fee and insurance premiums, are not eligible for the waived fees offer and shall be shouldered by the client.
Shall keep the vehicle under this promo for private use only and not convert the same to a public utility vehicle for the entire loan term
Pre-termination payback is waived provided loan is fully paid via collection of insurance proceeds.
The client shall authorize the Bank to hold original LTO OR/CR, Deed of Cancellation/Release of Security Interest, and other documents relative to the motor vehicle until maturity/full settlement of the loan and/or until any unpaid obligation is settled.
The promo is non-transferrable and may not be availed in conjunction with other on-going promotional activities or other special considerations
The Bank must be advised in writing, if client opts to avail of other on-going promotional activities or other special considerations.
The pre-qualified credit card may only be availed by individual loan borrowers.
The pre-qualified credit card may be offered to either principal loan borrower or co- borrower as principal credit card holder but cannot be both. The other loan borrower may apply as the supplementary credit card holder.
Any deviations as to mechanics will be subject for approval of DTI.
Standard Car Loan and Metrobank Credit Card Terms and Conditions shall apply.
Disclaimer: The mechanics have been amended with the approval of DTI effective September 6, 2021.

Customer Support
For any questions or clarifications on the promo, customers may contact Metrobank Contact Center at (02) 88-700-700, or send an email to customercare@metrobank.com.ph
---
Per DTI Fair Trade Permit No. FTEB-126165, Series of 2021