Founded on the principle that banking is a social business, Metrobank engages our employees, customers, and communities to optimize our social impact. We continue to invest in our employees, support and create shared value with our clients, and advocate social causes.
Workforce Diversity
As the pillar of our strength, our employees are vital in our success in delivering our strategy and sustaining our business performance over the long term.
We consistently provide an atmosphere that encourages the overall growth and productivity of Metrobankers even as they work from home to protect their safety and well-being in the light of the COVID-19 pandemic.
Embedding the principles of diversity and inclusion in our organization gives us a better understanding of the needs of our people, partners, suppliers, and customers. We believe that a diverse workforce, and an inclusive and caring environment that respects and nurtures diversity, contributes to the long-term success of our business.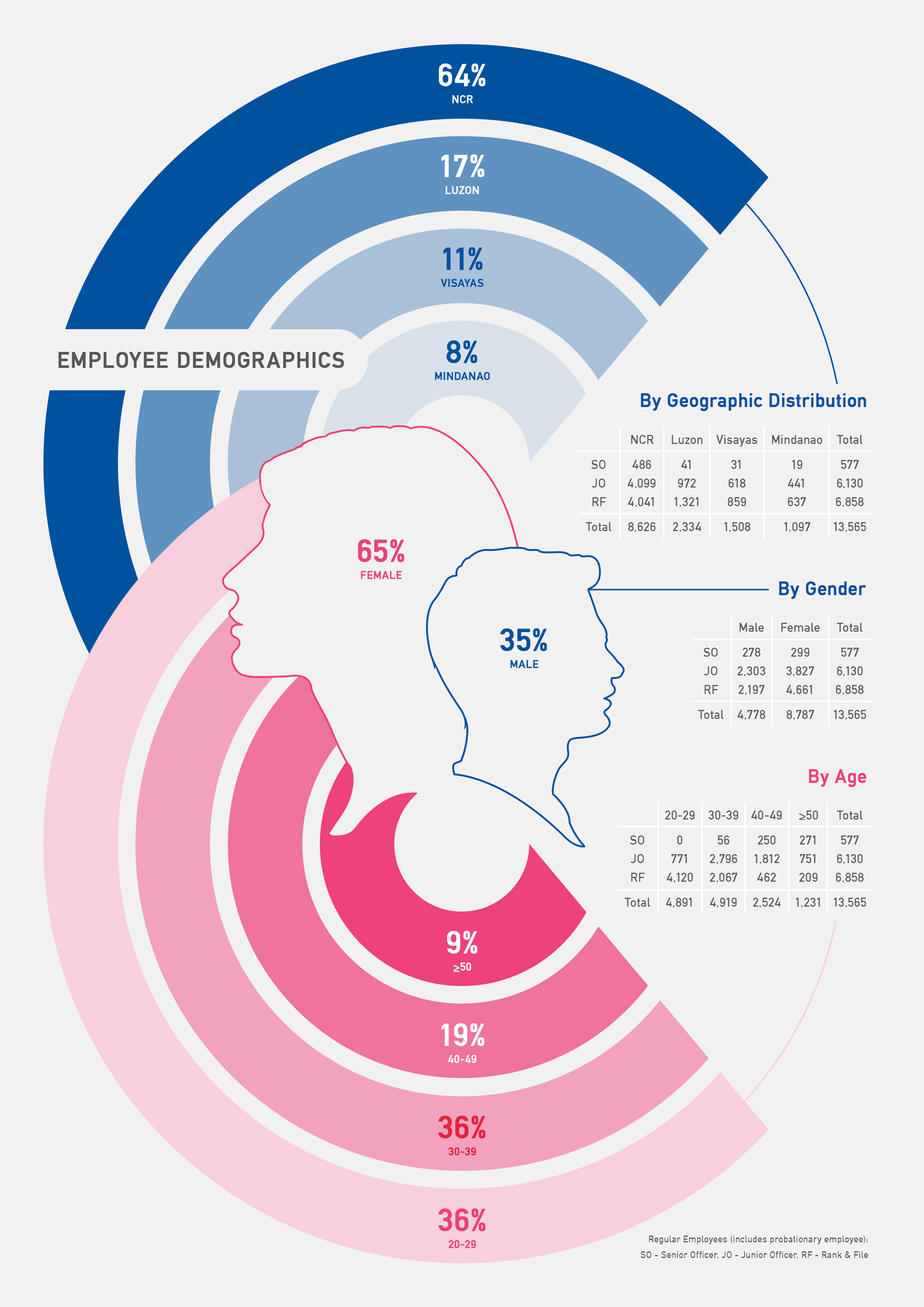 Talent Attraction and Retention
Having a distinctive brand promise that focuses on care (malasakit) and a reputation as the Strongest Bank in the Philippines for 2021 (The Asian Banker) helps us attract talented people. People who share our values, our purpose, and our passion to be a force for good find working for us most rewarding.
To address the challenges of mobility restrictions during the pandemic, we harnessed technology and transformed our recruitment process to continue attracting talent. We shifted to conducting online interviews using video conferencing applications and to paperless processes.
Beyond the recruitment process, we also changed our foundational Human Resources (HR) goals, recruitment skills, and other related HR policies and processes. We standardized the application interviews across all levels, reviewed recruitment tools and policies to adapt to the industry's best practices, re-evaluated sourcing talent from within, and conducted an interview process training program to HR leaders and select officers.
Compensation and Benefits
We provide compensation packages that are at par with those in our industry. Our employees receive benefits that exceed the minimum standards set by our local labor laws.
During the pandemic, we provided additional support to our employees working onsite to enable them to provide excellent and meaningful service to our clients. These include:
Enhanced Community Quarantine (ECQ) meal and transportation allowance

Overtime pay for shortened work hours in ECQ and Modified Enhanced Community Quarantine (MECQ) areas

Payment grace period on employee loans

Provident Fund car loan special package for junior officers as well as rank and file

Bank-sponsored shuttle service

Free face mask and face shield for each employee

Use of emergency leave for COVID-related absences
To address challenges due to mobility restrictions, we extended the Drive Car Loan benefit to our employees. The program enables employees to have new vehicles to solve their transportation concerns and also encourages them to assist their co-employees by implementing a carpooling system, which ultimately builds relationships and even helps the environment through less carbon emissions.
Broad List of Employee Benefits
Government-mandated benefits (SSS, PhilHealth, Pag-IBIG)

Leaves (Parental, vacation, and sick leaves)

Medical benefits

Housing assistance

Retirement fund (aside from government-mandated benefit)

Education support

Flexible working hours
Human Capital Development
At Metrobank, we recognize that our employees are the primary stakeholders that sustain our business. Their key talents are our lifeblood; their intellectual and human capital provides the operational efficiency and strategic direction to dutifully face both normal and challenging times for the institution.
In this time of the pandemic, Metrobank's sustainable business meant creating more value for the people that provided meaningful banking. We enabled and empowered our employees, equipped them with the right competencies to upscale their performance, and safeguarded their health, well-being, and rights. During periods of uncertainty and volatility, investing in people is the best move to uplift communities. Thus, we always prioritize employee safety, excellent performance, and sense of belongingness, and provide opportunities for their career development.
Employee Engagement
Listening to our employees is crucial to keep them engaged and motivated. To stay attuned to their evolving needs and concerns regarding their personal and professional growth, we provide various platforms for conversations, which include regular check-ins with supervisors through meetings and email correspondences, discussions with assigned HR Business Partners, HR Helpdesk page in Facebook Workplace, annual performance review, townhalls, sector meetings and conventions, and through the Purple Hearts Club, our employee volunteerism arm.
Training and Development
We invest in programs that develop the skills and capability of our people to drive performance and growth. Building our organizational capability ensures the sustainability of our business and makes us more responsive to the needs of our customers and other stakeholders.
To this end, we established the Metrobank Academy in 2015 to empower and build our workforce capability. The Academy adopts a "70-20-10" learning approach: 70% represents learning from experience, 20% is learning through others via coaching and mentoring circles, and 10% through formal learning.
To support the continued development of our employees during remote work arrangements, we created and launched an online learning platform, MyLearning. Developed with a leading digital learning agency, this platform enables every employee to access on-demand training using their desktop computer or mobile phone whenever and wherever convenient.
We also ensure that our Metrobankers are equipped with the right knowledge and skills to guide our customers and to embody what they teach. One of the education materials we developed is the series of financial education webinars on our Facebook Workplace platform. In 2021, we also launched an internal podcast series, BenefitED, which informs employees on the various benefits the Bank provides and raises awareness on how they can best manage their finances.
Career Development
We believe that investing in our people is vital to our sustainability as a business. Their competence, work ethic, commitment, and dedication fuel our ambition to achieve our goals.
In 2021, we revisited our performance management framework and processes to better monitor productivity and optimize employee performance in the light of the pandemic.. We launched an enhanced performance management program based on the principles of meritocracy, differentiation, and fairness.
Performance assessments are done annually and provide a venue for senior officers to provide feedback on their team members' performance. In 2021, approximately 96% of our total employees received a formal performance appraisal and career development review from their respective managers.
Through our Leadership Potential Assessment, we evaluate, hire, appoint, promote, and develop Metrobank leaders based on intellectual capacity, interpersonal skills, and intensity, and regardless of age, ethnic background, or gender.
We continue to identify and develop high-performing and high-potential talent through Talent Reviews. Through a succession program, we track the career trajectory of these talents to ensure they will unleash their full potential and make meaningful contributions to our sustainable business.
Occupational Health and Safety
We aim to provide a work environment that ensures the health and safety of our employees.
With the emergence of new COVID-19 variants in 2021, we remain vigilant in safeguarding the health and safety of our employees. Below are the initiatives we have undertaken:
We provided safety advisories, webinars, and health reminders to our employees to curb the spread of COVID-19, as aligned with the health and safety protocols of the Department of Health (DOH) and the Inter-Agency TaskForce (IATF).
All Metrobankers completed the e-learning course on COVID-19 Safety Protocols at Home in 2021.

We launched our own COVID Vaccination Program dubbed #VaxForMetrobankers in support of the government's goal to achieve herd immunity. In 2021, it achieved a 98% vaccination rate among Metrobankers.

We continued to partner with third-party agency ActiveOne in managing and monitoring all employees affected by COVID-19 (probable, suspect, confirmed or close contact cases) through itsTelemed Services.

We launched Metrobank CARES, an employee mental health and wellness program to sustain workforce productivity to counter the adverse health effects of prolonged lockdowns. An advocacy campaign on self-care and self-awareness is at the core of the program.
Our General Services Group and COVID-19 Care Team adopted spatial strategies to create safer dining areas for employees.

In addition to our COVID-19 response, we also assisted Metrobankers in communities adversely affected by Super Typhoon Odette (internationally known as Rai) in Visayas and North Mindanao. We immediately mobilized our network and resources to bring much-needed relief goods, bottled water, and funds to respond to the needs of the typhoon victims.
Responsible Labor Practices
Labor practices affect employee hiring and promotion, remuneration, disciplinary action, complaint resolution, occupational safety and health, and working conditions. Protecting the basic rights of workers and looking after their welfare is important for both companies and society.
Collective Bargaining
We recognize employees' right to freedom of association and collective bargaining. As of date, our employee union has 6,249 members, representing 91% of our regular rank-and-file employees covered by the Collective Bargaining Agreement (CBA). In 2021, we concluded the CBA for Year 2022-2024.
The Bank fosters the harmonious relations between Management and labor. Human Resources Management Group regularly conducts Labor-Management Committee (LMC) meetings with the Union, MBTC Employees Union–Associated Labor Unions–TradeUnion Congress of the Philippines, to discuss topics relating to labor standards and the implementation of the Collective Bargaining Agreement (CBA). These regular collaborations allowed both parties to immediately bring clarity and agree on resolutions to various concerns.
Human Rights and Non-Discrimination
We are committed to doing business with respect for people's fundamental dignity and their human rights. We also believe that everyone should be treated equally regardless of race, sex, gender identification, sexual orientation, religion, age, disability, marital status, citizenship, or any other characteristic protected by law.
We recognize that gender-based violence is a form of a human rights violation. Cognizant of our responsibility to protect the safety and interests of our female employees and their children against domestic abuse, we strongly enforce our HR policy on Anti-Violence Against Women and their Children (VAWC) implemented since 2014. This is in accordance with the provisions of Republic Act No. 9262, otherwise known as the Anti-Violence against Women and their Children Act of 2004, and its Implementing Rules and Regulations.
We prohibit discrimination in any form—from pre-employment to post-employment—on employees who are or were victims of VAWC. In addition, we do not prejudice an employee who, in any form, assists a co-employee who is a victim of VAWC. We also grant paid leave benefits of up to ten days a year to a female employee who becomes a victim of VAWC.
We also acknowledge our responsibility in maintaining a workplace free of sexual harassment that may dampen employee morale and productivity and pose legal risks. Since 2009, we have been implementing an Anti-Sexual Harassment Policy that defines sexual harassment and outline unacceptable behavior and its consequences. The policy also lays down the process of filing a complaint, investigating, and handling sexual harassment cases in the Bank. In addition, we also established a formal policy on HIV and AIDS Prevention and Control, a Mental Health Program, and a Hepatitis B Workplace Control Standards and Program.
Consumer Financial Protection
Our customers are the driving force of our business. As such, upholding their rights and safeguarding their data and privacy are central to our goal of becoming a sustainable business. Consumer rights contribute to a fairer, safer and healthier society, and a more equitable and efficient economy.
Customer Protection
Ensuring consumer protection and exceptional customer experience is a collective and shared responsibility of every Metrobanker. We follow an organized structure that maintains and oversees the execution of our overall customer experience strategy. We are guided by the consumer protection standards of the Bangko Sentral ng Pilipinas (BSP) and our Consumer Protection Policy Manual (CPPM).
In 2021, we instituted health and safety protocols for customers who prefer to bank in our branches. We also expanded our online platforms to enable customers to access more products and services right in the comfort and safety of their homes while ensuring the security and privacy of their personal and account data.
Our Consumer Protection Standards help set our customer-centric culture, and be followed at all times. These standards ensure that:
Our customers are given ready information so they can have a reasonable and holistic understanding of all products and services they may choose to avail.

We have a strong and reliable IT system, with well-defined protocols, secure database, and constantly re-validated procedures that safeguard the confidentiality, security, accuracy, and integrity of the customer's personal and account information.

Through our Fraud Management Division, we use several tools that prevent and mitigate fraud.

We demonstrate at all times the principle of fair treatment towards our customers.
Organizational Structure
While it is every Metrobanker's collective and shared responsibility to follow consumer protection standards and ensure exceptional customer experience (CX), we have an organized structure that maintains and oversees our overall customer experience strategy.
The Board of Directors (BOD), through the Executive Committee (EXCOM), proactively oversees our Financial Customer Protection program and implementation based on the BSP's Circular on Consumer Protection.
The Senior Management through the Customer Experience Committee (CXCom) ensures that the Bank's developed Consumer Protection Policy Manual (CPPM) is diligently followed and has become fully integrated in the overall framework of its product and service lifecycle.
The Customer Engagement Group (CEG) and Service Quality Department (SQD) are responsible for enhancing our customer-centric culture, with focus on customer experience, continuous improvement, efficiency, and data-driven policies for customers. Their responsibilities include:
Promoting the effective implementation of the CPPM and address gaps that may arise in collaboration with the responsible units through initiatives

Overseeing the effectiveness of the complaints management system for preventive and corrective measures

Leading our Voice of the Customer (VOC) program, generating valuable insights in improving customer experience.
Product Enhancements
We continue to expand and enhance our online banking platform, Metrobank Online (MBO), which offers a safer, easier, and more convenient way of banking. Usage of the platform rose as the extended pandemic made customers more comfortable with transacting and banking online.
We continue to listen to our customers and provide them with more convenience. Our electronic Statement of Account (e-SOA) that gives customers the option to go paperless with their Statements of Account (SOA) and to access it conveniently online.
Payroll accountholders can also avail of the Payroll Cash Advance, which allows them to withdraw funds in advance of their pay days, giving them more financial reassurance.
Committed to safeguarding the accounts of our credit card customers, we provide the two-way SMS for transaction verification enabling customers to immediately identify the legitimacy of a credit card transaction billed to their account.
On Facebook Messenger, Mia of Metrobank Card is a self-service channel that assists customers with their balance inquiry, recent transactions, checking of rewards points, redemption of rewards and credit card application. To conveniently transfer funds or send money to online sellers or relatives, Mia of Metrobank Card also offers PayNow, a fund transfer and payment solution service from an active credit card to select or nominate individual bank accounts real time.
Customer Experience at Touchpoints
The challenges of the on-going pandemic motivated us to assist our customers in a worry-free environment so that they could focus on their safety and the welfare of their loved ones.
Depending on localized alert levels, most branches remain open from Monday to Friday, some with reduced banking hours, to respond to the needs and concerns of customers. Health and safety protocols are observed where branches are open to safeguard both customers and bank personnel, in compliance with national and local health guidelines.
Our Contact Center remains open from Monday to Sunday to attend to all queries, concerns, and requests of customers. Additional personnel for voice operations are deployed to manage the increased volume of calls. We make sure that all pertinent information that can assist our customers during the pandemic are available and within reach through our website and social media channels.
Necessary information is also available on our website and in social media. These keep our customers informed and connected without having to visit a branch or call the Contact Center, which is a convenience during this pandemic. Our Analytics, Brand, Communications and Marketing Technology Group also ensures dissemination of pertinent bank information and marketing efforts through press releases, paid advertisements and inside the branches and offices of the Bank through banners and posters.
Dedicated teams that safeguard our reputation and engage customers work closely with Management so that all issues and concerns are managed quickly and effectively. They are guided by the Risk Management and Crisis Communication plan to ensure that any operational or reputational risk that may affect the brand can be addressed immediately.
On social media, our Community Managers address customer inquiries, feedback, and concerns in real-time.
In addition, we invest in media intelligence and social listening tools to help in monitoring daily news and mentions about the Bank, enabling us to assess customer sentiment in real-time and to our brand and our relationship with the general public.
Our financial products and services are disclosed in all appropriate channels as mandated by our regulators. This includes the publication of service advisories, product information, mandatory disclosures and other marketing content on various print and digital channels.
Customer Relationship Management
We regard each customer feedback as an opportunity to improve our relationship with them. To promptly respond to their demands and needs, we assure our customers that their sentiments are heard, pain points are addressed, and their overall experience with the Bank is improved.
Customer Assistance and Complaints Handling
Metrobank provides ready access to affordable, independent, fair, accountable, timely, and efficient ways to resolve customer complaints on their banking transactions.
Customers can lodge their complaints through a personal visit to a Metrobank branch, a letter or an e-mail, the Metrobank hotline numbers, the Bank's website or its social media channels. Our frontline units, whether they are our branches (local and foreign), Contact Center, Relationship Managers or Account Officers, or social media community managers, are prepared to receive them.
Customer Complaints
By promptly investigating, assessing, and resolving customer grievances, the Bank's total record of complaints lodged in 2021 (including those for credit cards) declined by 8.71% to 211,200, despite the 20% growth in transaction volume.
Fraud Prevention
Our Fraud Management Division utilizes several tools for fraud analysis, prevention, and mitigation. In 2021, we brought scale to our #FightFraud education drive, informing our customers and the public of the latest and frequent fraud schemes. We also directly engaged clients through webinars, SMS and email alerts on fraud awareness and prevention. For more fraud tips and advisories, visit https://www.metrobank.com.ph/learn/fight-fraud.
To create a safer online environment for all Filipinos, Metrobank, its subsidiary PSBank, other banks and companies across industries, launched Scam Proof to educate Filipinos on how to evade and protect themselves against financial fraud.
In 2021, this included six webinars for our clients and stakeholders as part of our Fraud Awareness and Education Program.
We also train our employees to raise fraud awareness among our clients and their loved ones. We regularly post fraud awareness tips, advisories and webinar materials on our Facebook Workplace and conduct quarterly e-Learning courses for all employees.
Marketing and Labeling
Part of our commitment to customer safety is ensuring that our financial products and services follow the applicable rules and regulations of the BSP, the Philippine Deposit Insurance Corporation (PDIC), the Securities and Exchange Commission (SEC), the Department of Trade and Industry (DTI), BancNet, and other relevant agencies. Promotional materials, branding, mandatory information, statements and/or disclaimers are presented clearly and completely so our customers are fully aware of the benefits, risks, terms, and conditions for each product or service.
To this end, we make sure our advertising and marketing communication materials do not make false, misleading, or deceptive statements that may materially and/or adversely affect the buying decision of the customer.
All our marketing communications across all channels (print and digital) adhere to the regulations of the BSP, the Ad Standards Council (ASC), the PDIC, SEC, Intellectual Property Office (IPO), DTI, and other relevant agencies.
In 2021, there were no incidents of non-compliance concerning product and service information and labeling, including marketing communications, that resulted in a fine, penalty, or warning.
Information Security and System Availability
We ensure the protection of our information and information systems from unauthorized access, use, disclosure, modification, recording, disruption, and destruction across our operations. We have an established governance framework, policies, standards, and guidelines related to the overall management of our information assets.
Role of the Board and Senior Management
Our information technology (IT) governance framework defines the roles and responsibilities of individuals and groups involved with IT governance to ensure effective input and decision-making pertaining to IT strategy and performance, policies, standards, guidelines, processes, and procedures. It has been implemented in compliance with the rules and regulations on IT risk management of the Bangko Sentral ng Pilipinas and the Control Objectives for Information and Related Technology standards.
A Board-level IT Steering Committee provides governance and oversight in the management of the Bank's IT resources. Its principal function is to ensure that IT strategies are consistent with the overall business objectives. Together with the IT Governance Committee, it reviews, approves, and supervises the IT Strategic and Security Plans and the IT Risk Management Program of the Bank.
Information security plans, programs, and performance metrics are regularly reported to the IT Steering Committee, IT Governance Committee, and Senior Management Committee while information security risks are reported to the Risk Oversight Committee.
Information Security Governance and Measures
Our Information Security Division oversees all information security activities of the Bank, and for establishing policies, standards, and guidelines in safeguarding its information assets to ensure protection against loss or misuse of information. It is also responsible for information security governance activities that includes, but may not be limited to, information security awareness training, policy and standard recommendation, formulation, or revision to address control gaps, information-based risk management, system vulnerability assessments, management of user access roles, and information security incidents.
We follow a risk management framework to effectively navigate the management of information and IT security risks. The framework assures our Management and stakeholders that information security risks are identified proactively and managed appropriately in the various risk areas of infrastructure, systems/applications, information asset, and even engagement with third parties.
As a responsible information custodian, we protect our customers, partners, and employees by complying with all regulatory requirements, honoring our contractual obligations, and promoting greater awareness on information security threats.
We adopt and implement various checkpoints and gates to capture and immediately mitigate any risks in these areas through change requests, participation in system projects, and periodic reviews. Annually, penetration testing is conducted by an independent third party as required by regulations. In 2021, the outcome of the independent penetration testing showed no significant vulnerabilities in the Bank's external network and systems.
New or changes to the IT environment (applications and infrastructure), products and services, and internal and third-party engagements pass through the Information Security Division for review prior to implementation, engagement, or release. In 2021, we fully operationalized a third-party security management framework to identify all applicable third parties, the risks they bring into the Bank, and immediately mitigate any high or medium risks. Risks arising from the work-from-home set up and the new normal have been further evaluated and mitigated in 2021. Validation of compliance to system security controls was also conducted.
We have a formal Information Security Policy internally available to all employees. We put in place a comprehensive information security and cybersecurity awareness training which covers both our employees and third-party service providers, including contractual workers we engaged.
Over the past three years, we have not experienced a breach of information security or other cybersecurity incidents, including those that have affected our IT infrastructure.
Privacy Protection
We strive to safeguard personal data, pursuant to the Data Privacy Act of 2012 (DPA). We put in place a robust Privacy Policy that governs customer privacy and security. This demonstrates our compliance with data privacy and protection standards over the personal data entrusted by our stakeholders.
We are committed to obtain personal data through lawful and transparent means. We obtain an explicit consent from the data subject when required, collecting and processing personal data limited to the stated purpose. We notify data subjects in a timely manner in case of policy changes, data breach or privacy protection issues, and require third parties with whom the data is shared to comply with our Privacy Policy.
Our Privacy Policy details how we protect personal data, the types of customer data that we collect, the uses of the data, the rights of each stakeholder under the DPA, and how long we keep the data. The full policy can be accessed through our website: https://www.metrobank.com.ph/articles/privacy-policy.
Our Data Protection Unit (DPU) is responsible for handling privacy issues that may come from various internal and external stakeholders, via email, official complaint and other forms of communications.
Customer Privacy
As part of the regular course of doing business, we collect personal data from our customers to validate, verify, and update information in our database and apply them to documents required for carrying out certain transactions with the Bank.
We have comprehensive mechanisms to ensure the effective implementation of the Privacy Policy. Metrobank has a strong IT system in place, with well-defined protocols, a secured database, and periodically re-validated procedures to protect the confidentiality, security, accuracy, and integrity of personal data.
Data Security
Customers are assured that their financial transactions, as well as relevant personal information disclosed in the course of the transaction with the Bank, are kept confidential.
We adopt an end-to-end process that covers, among others, the array of information that will be pre-identified and collected, the purpose of gathering information, how these will be sourced from the customer, the IT security infrastructure of the Bank, and the protocols for disclosure, both within the Bank and especially to third parties, if needed.
We regularly evaluate and adjust our Information Security Program, as necessary, to address the rapidly evolving nature of banking and technology and to stay aligned with applicable laws and regulations on information security and data privacy. There was no data breach, including leaks, thefts, and losses of data in 2021.
Corporate Citizenship and Philanthropy
In the words of our late Group Chair, Dr. George S.K.Ty, Metrobank is there to do good, to help other people, and to help the country. We demonstrate our role in society by supporting social causes in education, peace and order, and the arts.
As an institution with a heart, we measure our performance, not only through financial returns, but also on the attainment of our social objectives.
Corporate Citizenship Strategy
We have comprehensive community and social responsibility programs conducted by the Metrobank Foundation Inc. (MBFI), our corporate social responsibility arm, and employee volunteers through the Purple Hearts Club (PHC).
MBFI aims to be the country's premier corporate philanthropic foundation by contributing significantly to social development. As a development organization, its aim is to uplift individuals and the sectors they represent. By engaging our network of partners, we provide other individuals and organizations with links to communities and sectors that can benefit from social responsibility. MBFI is working to formally align its program outcomes to the relevant goals and targets of the UN Sustainable Development Goals.
For its part, PHC focused its efforts on supporting communities in the transition to the "new normal." Employees participate in a variety of corporate social responsibility (CSR) programs that focus on education, environmental stewardship, and health. PHC also collaborated with partners across industries to introduce employees to new opportunities for volunteerism that benefit and support other marginalized sectors of society.