Our impact on the economy extends beyond our fiduciary responsibility. It is felt through the products, services, and initiatives that we provide our clients here and abroad. This underpins our role as a universal bank that offers meaningful financial solutions to the markets we serve.
Sustainable Finance
We recognize that banks and financial institutions have a significant role in helping the planet and in promoting financial inclusion through sustainable finance.
Thorough Underwriting
Our sustainability as a business hinges on our ability to sustain a strong balance sheet, good reputation, and zero credit risks.
We have thorough credit underwriting policies in selecting the right clients, and have adopted a solid credit risk management system that covers credit policies, authorizations, risk evaluation, and compliance monitoring.
Credit policies are formulated in consultation with business units on collateral requirements, credit assessment, risk grading, reporting, and compliance with regulatory requirements. We also implement prudent concentration limits in granting loans to counterparties and industries, and by issuer, in the case of investment securities.
Credit quality is monitored by analyzing and categorizing the repayment ability of a borrower through the Internal Credit Risk Rating System (ICRRS), which is a ten-grade rating system that reflects the borrower's risk of default and availability of a collateral or other credit risk mitigation.
Moreover, our credit policies reflect an enhanced due diligence process on the following industries and client categories under our financial crime compliance program:
Subject to enhanced due diligence and risk-based approach: Non-resident customers, politically exposed persons (PEP) and their close family members (PEP related), close business colleague and personal advisor (PEP close associate), correspondent banks, arms, defense, military, extractive industries, precious metals and stones, regulated charities, non-government organizations, embassies or consulates, and payment service providers
Subject to enhanced due diligence and restricted risk-based approach: Non-account customers, non-resident customers, and money or value-transfer services or money services business
Prohibited customers or industries: Shell banks, atomic power, unregulated charities, red light business or adult entertainment, virtual currencies, marijuana, and gambling.
Contribution of Commercial Loans to the UN Sustainable Development Goals
At Metrobank, sustainable finance covers a range of activities, from lending to green projects or investing in companies that contribute to the UN SDGs. We reviewed our commercial loan portfolio and identified those that are aligned with the attainment of the SDGs based on the purpose of the loan and the client's nature of business. The scope of the review covered accounts with an outstanding loan balance of at least P200 million. In 2021, this accounted for 87.25% of our total commercial loan portfolio, amounting to P780.2 billion.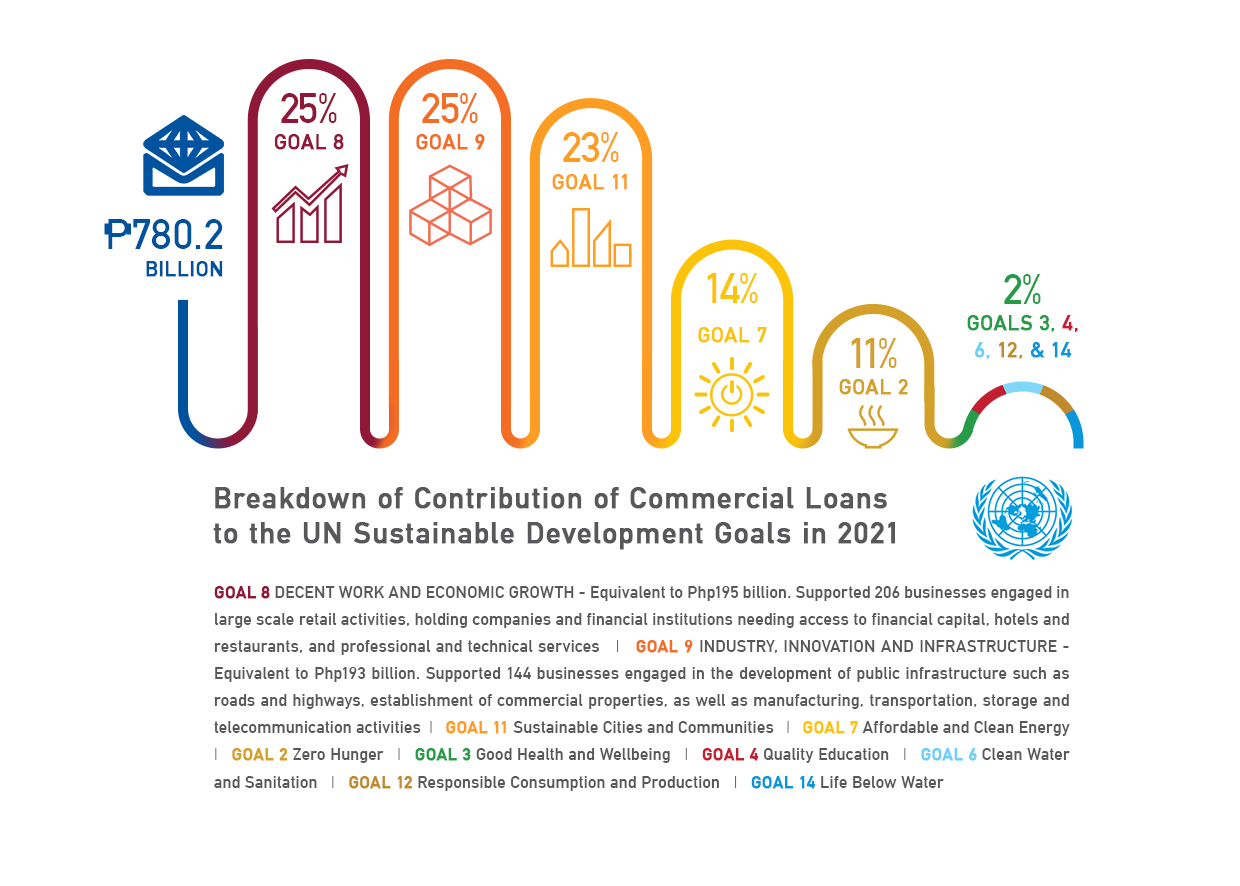 Financial Inclusion
Poverty remains one of the biggest social and economic challenges in our time. Financial inclusion serves as a key driver to reducing poverty and a key enabler of the UN SDGs. It is presented as a target in 8 out of the 17 SDGs, aligned with our focus areas.
At Metrobank, we promote financial inclusion through our network of branches here and abroad and through our digital channels.
Reaching Out to the Countryside
Our branches comprised 55% or 385 of our total domestic branch network as of end 2021. Located outside Metro Manila, our branches enable us to reach Filipinos in 86% or 6 out of the 7 poorest provinces in the Philippines. In addition, we are also present in 81% or 13 out of the 16 provinces belonging to the second cluster of the poorest provinces in the country.
Reaching Out to Filipinos Abroad
We respond to the financial needs of overseas Filipinos and their families through our presence in 26 countries and territories abroad. Our international network includes: five foreign branches, six foreign remittance subsidiaries and 142 remittance partners. Through our strong presence abroad, we were able to facilitate US$7.9 billion in remittance value in 2021 from 1.9 million unique remitters supporting 3.5 million beneficiaries.
We also offer other financial services to the Philippine-based beneficiaries of overseas Filipinos and conduct financial literacy seminars to Filipinos leaving for work abroad.
To view the directory of Metrobank foreign branches, subsidiaries, and remittance partners found in different regions all over the world, visit https://www.metrobank.com.ph/manage/remittance-directory.
Reaching Out to Filipinos Everywhere
Adoption of digital financial services accelerated in the wake of the pandemic because of mobility restrictions that drove Filipinos to mobile apps and online banking channels.
We were able to reach out to more Filipinos wherever they are, through Metrobank Online, our revamped online banking facility, and through our Metrobank Mobile App. The Cash Pick-Up feature in our mobile app enabled our clients to send up to P30,000 anywhere in the Philippines through our over 10,200 remittance partner outlets that expanded our reach.

Reaching Out to MSMEs
Micro, small and medium enterprises (MSMEs) comprise 99.5% of the total number of establishments and generate 62.6% of the total employment in our country. They also account for a quarter of our total exports revenue, according to the Department of Trade and Industry.
To enable MSMEs to access funds even during the pandemic, our Business Banking Center (BBC) actively onboarded small and medium enterprises to the Metrobank Business Online Solutions (MBOS) platform.
Launched before the pandemic in 2019, MBOS is an innovative online banking system that allows corporate and commercial clients, including SMEs, to transact with Metrobank in the safety of their homes. In 2021, the value of corporate transactions that went through our digital platforms increased by 50% year-on-year. About 27% of this volume now goes through digital channels compared with 25% in 2020. In terms of usage, 39% of our corporate clients have now been onboarded in the MBOS platform. Of this, 61% are active.
To provide more Filipinos access to our digital platforms, we also slashed by half the fee on electronic fund transfers by small-to-large businesses. We lowered the PESONet fees on Metrobank online and Metrobank mobile app to P50 from P100 per transaction starting November 2, 2021.
Financial Literacy
Through a financial education program, we help arm our customers with the knowledge they need to make informed financial decisions.
Our financial education covers fundamental principles and topics on money saving and debt management, to more complex concepts such as investments.
Money Basics: This educational campaign was launched in 2019 and became an ongoing activity of the Bank to provide and impart financial education materials. Relevant articles on essentials of personal finance, from bite-sized money tips tolong-term investment goals, are regularly posted on Metrobank's website: https://www.metrobank.com.ph/learn/money-basics.
Earnest: This is a financial education and investing platform designed with beginner investors in mind. Users can download the app or go to the website: https://earnest.ph to learn financial basics through lesson cards and more in-depth articles and content.
Economic Performance
Our biggest contribution as a bank is through performing our fiduciary responsibility. This means acting in the best interests of our stakeholders by prudently managing their money and providing products and services that meet customers' financial needs. These drive our business growth and help sustain our commercial viability.
In 2021, we continued to demonstrate financial strength and resilience. This enabled the Bank to make the following economic contributions at the parent level: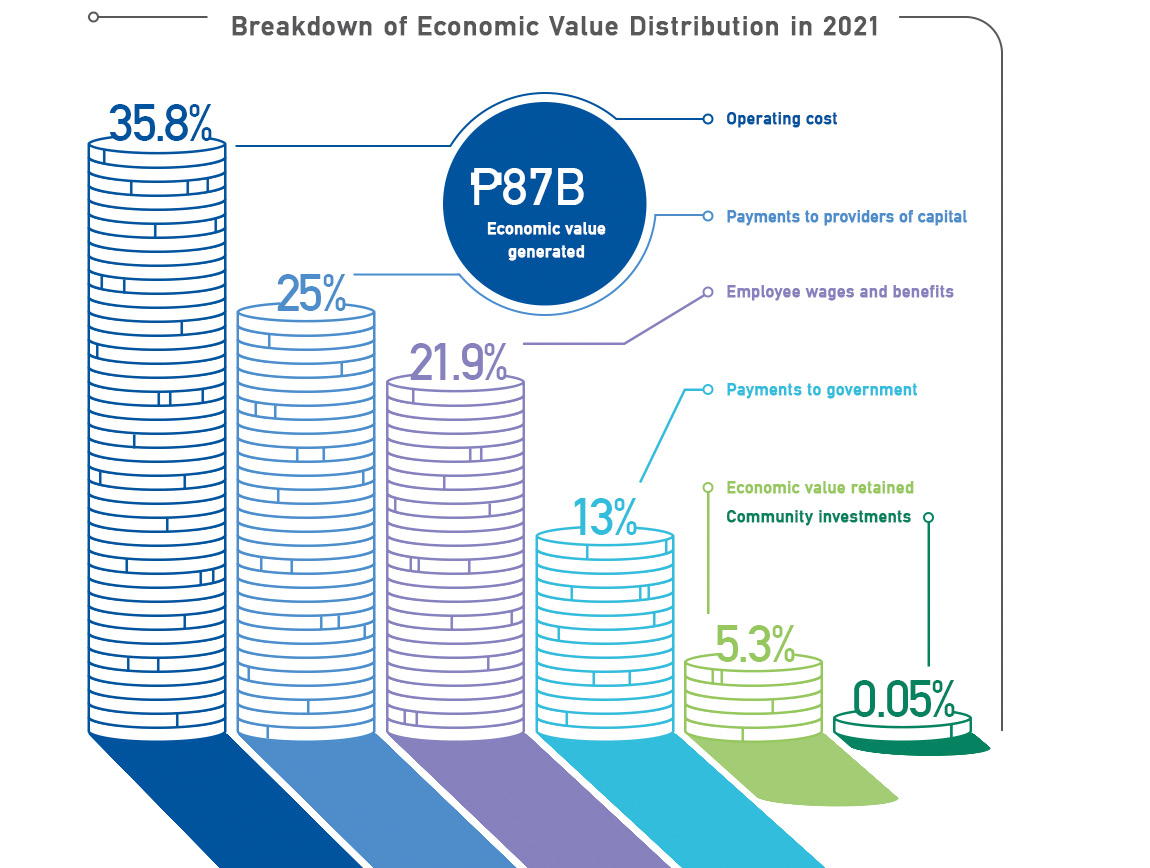 Procurement Practices
We conduct our business with our suppliers and partners in a fair and responsible manner. This relationship allows us to have an economic impact and promote inclusion through our local procurement practices.
We carefully select suppliers and contractors through an accreditation/re-accreditation process that is in accordance and compliant with BSP regulations. Our General Services Group (GSG) collaborates with concerned business units for the accreditation, contracting, selection, bidding, and performance review of vendors.
We have a policy on canvassing and bidding in the conduct of purchase of products or contracts for services to ensure that we secure the best deal in terms of price, quality of materials or work services, delivery time frame, and related terms and conditions.
We have an Outsourcing Policy that guides our business units in outsourcing an activity or function. The policy is aligned with the outsourcing regulations of the BSP to ensure our compliance with applicable laws.
Annual performance evaluation is conducted to determine if the contractual agreement with the vendor or supplier will be renewed or terminated.
In 2021, around 82% of our procurement spending was paid to local suppliers and service providers. There was a significant decrease in total spending from 2020 to 2021 attributed to the impact of the COVID-19 pandemic, leading to the implementation of cost-effective measures.
Tax Strategy
Transparency is an integral part of doing business responsibly. Payment of taxes gives the government an opportunity to generate revenues, support economic growth, fund public services, and enhance social development.
In 2021, Metrobank's provision for income tax decreased to P5.8 billion from P6.9 billion in 2020. This is attributable to the net effect of the decrease in tax rate under the Corporate Recovery and Tax Incentives for Enterprises (CREATE) Law and movements on temporary tax difference.