Sustainability at Metrobank means helping accelerate national development by providing financial solutions that empower individuals and businesses in a way that balances short- and long-term interests, and integrates economic, environmental and social considerations into decision-making.
Integrating Sustainability Principles
We recognize that social inclusivity and environmental consciousness in our society is growing. We are integrating more economic, environmental, social, and governance (EESG) principles into our operations while striking a balance between our sustainability goals and the viability of our business. This is our vital consideration when we plan, design, and execute our strategies and operate our business.
Sustainability Framework
We established a Sustainability Framework, anchored on creating long-term and shared value with our stakeholders for a sustainable future. This Board-approved Framework is complemented by a governance structure and a sustainability roadmap.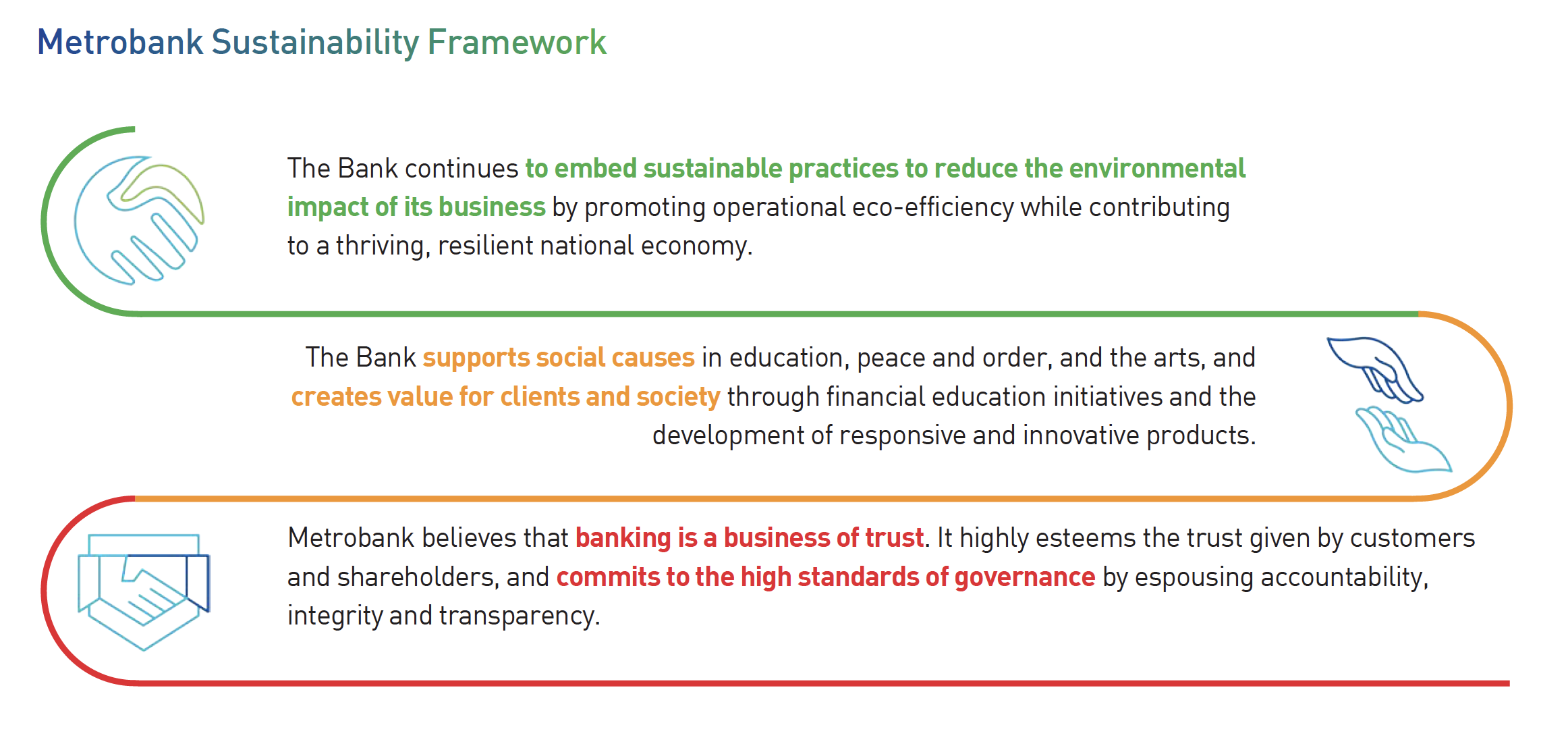 Sustainability Governance Structure
We have adopted an effective organizational structure to ensure the attainment and continuing relevance of our sustainability objectives.
The accountability for sustainability starts with our Board of Directors. The Board provides the overall direction and oversight of the Bank's sustainability agenda. As stated in the 2021 Metrobank Corporate Governance Manual, its specific duties and responsibilities include:
Institutionalizing the adoption of sustainability principles; Promoting a culture that fosters environmentally and socially responsible business decisions;
Approving the Bank's Environmental and Social Risk Management System (ESRMS);
Ensuring that sustainability objectives and policies are clearly communicated across the institution;
Ensuring that adequate resources are available to attain the Bank's sustainability objectives; and
Ensuring that the sustainability agenda is integrated in the Bank's performance appraisal system.
The Board, through the Executive Committee (EXCOM), sets the direction and performs oversight on our sustainability framework and strategy, and ensures the adoption of regulatory mandates.
The EXCOM mandates the Metrobank President, who executes the framework and strategy through the Sustainability Department.
The Sustainability Department ensures that sustainable principles are embedded into our business practices and across the organization. In collaboration with our various business units and subject matter experts, it develops the policies, programs, and goals on sustainability-linked risks and opportunities.
We also have a Sustainability Technical Working Group, composed of relevant business units that collaborate and assist senior management in executing our sustainability agenda.
Materiality
Metrobank's material topics describe and communicate the economic, environment and social issues that the Bank and its stakeholders deem most relevant. These are anchored on the four main sustainability drivers and reported according to the GRI Standards and SEC Guidelines on Sustainability Reporting.
Our material topics are subject to change as we incorporate new guidelines from regulators such as the BSP, anticipate, and address the needs of our stakeholders. Hence, our materiality process is iterative, and our sustainability framework is reviewed and revised as the need arises.
Materiality Disclosure
In 2021, we adopted the EESG format in our sustainability reporting process and aligned our material topics and its relevance. Accordingly, we re-organized our material topics to align to this format.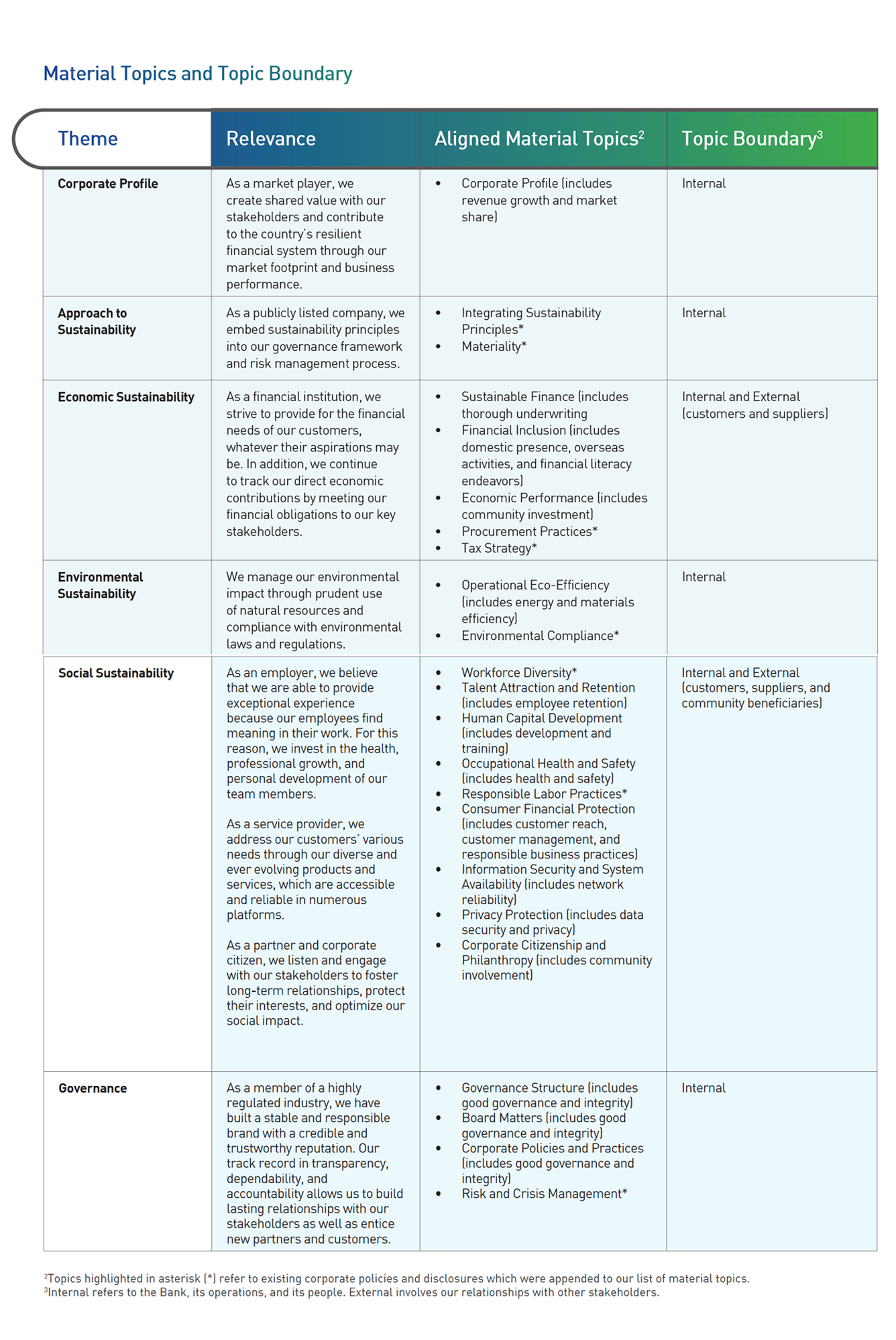 Stakeholder Engagement
To create a more meaningful impact, we believe in collaborating and engaging with various stakeholders. This enables us to learn new things, share best practices, achieve specific objectives, set future goals, and build long-term trust with stakeholders touched by our business. Through these various channels, we are able to understand various stakeholders' concerns and needs and encourage dialogue for resolutions.