Sustainability at Metrobank
Metrobank's purpose is to empower individuals and businesses to realize their goals and reach their full potential. We create and customize financial solutions to meet our stakeholders' needs, continuously expanding our scope of reach and leading in community service. This is our way of living up to our brand promise, "You're in Good Hands," which embodies who we are and what we do.
This report describes how we live up to our purpose and promise which leads to the sustainability of our business. Stakeholders assess our financial and non-financial performance when making decisions that are forward looking and impactful.
Three years into recording our sustainability journey, this marks our first stand-alone publication that supplements our corporate annual report.
Scope and Boundaries
Our report follows an annual cycle from the period January 1 to December 31. It covers the performance and management approach of Metrobank in governing economic, environmental, social and governance issues. We also included the contributions of Metrobank Foundation, Inc., our corporate philanthropy arm. Our report does not include the performance of Metrobank's international operations and those of its subsidiaries.
To present a better picture of our Bank-wide performance, we intensified our baseline activities, specifically in measuring our environmental footprint. Before 2021, we limited our disclosure to selected facilities. This year, we expanded our coverage to all corporate centers and domestic branches.
Reporting Guidelines
This report follows the Global Reporting Initiative (GRI) Standards: Core Option. It focuses on topics that are most material to our business. Its GRI Content Index can be found on our website. It is guided by the disclosure mandates of the Securities and Exchange Commission and Bangko Sentral ng Pilipinas.
Reporting our sustainability efforts is a journey. Thus we welcome your feedback in improving our operations and future reports. Please share your feedback with our Metrobank Sustainability Department: sustainability@metrobank.com.ph.
Note on Forward-Looking Statements
This report contains statements describing Metrobank's objectives, projections, estimates, and expectations, which may be "forward-looking statements" within the meaning of applicable securities laws and regulations. These statements are based on the current beliefs and expectations of the management and are subject to significant risks and uncertainties, many of which are beyond the Bank's control. Actual results could differ materially from those expressed or implied goals and targets set forth in the forward-looking statements. Important factors that could make a difference to the Bank's operations include, among others, economic conditions in the domestic and overseas markets in which the company operates, changes in government regulations, tax laws, other statutes and incidental factors, as well as the effect of the COVID-19 pandemic.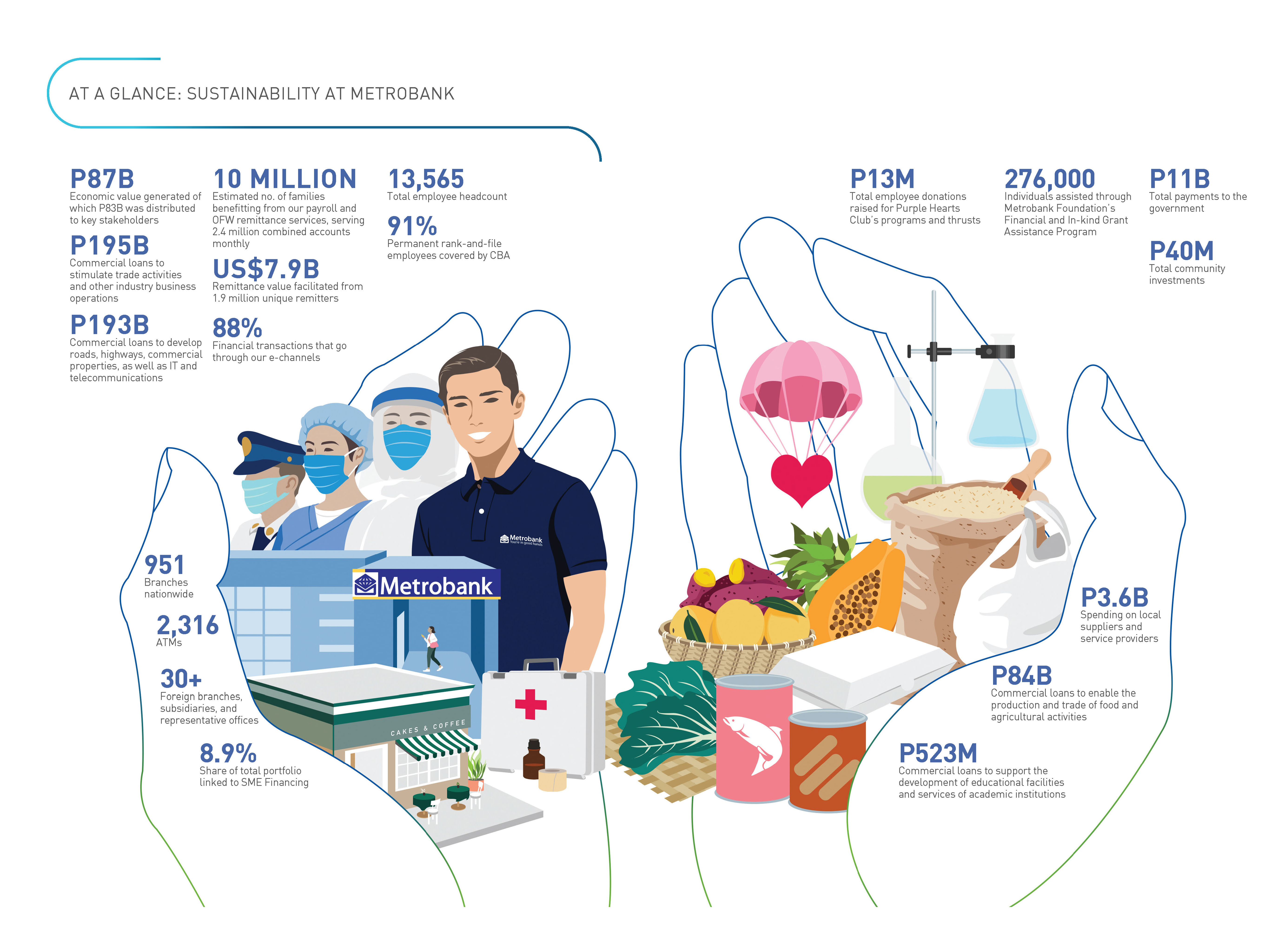 At Metrobank, sustainability is built on our founding mandate to help in nation-building.
We support the national government's AmBisyon Natin 2040, which represents the collective long-term vision and aspirations of the Filipino people to promote inclusive growth and poverty alleviation. This is the anchor of the country's development planning so that all Filipinos may enjoy a strongly rooted, comfortable, and secure life.
We are committed to enable economic opportunities that address the foremost realities and challenges of the Philippines as a developing country.
Operationalizing this commitment, the Board has approved Metrobank's Sustainability Framework which captures our objective of long-term returns for our shareholders, creating shared value for society, and our approach to managing our impact on sustainable development.
Our Sustainability Focus Areas
The Philippines is one of the United Nations member states that is committed to the 17 Sustainable Development Goals (SDGs) by 2030.
As one of the largest financial institutions in the country, Metrobank contributes to the achievement of the 17 SDGs, directly and indirectly, through our business operations, products and services.
The Metrobank Board of Directors has chosen five focus areas or SDGs where the Bank can further contribute to the United Nations 2030 Agenda.
Our key contributions on each focus area include:
a. Facilitating access to financial resources
b. Employment generation
c. Financing for the development of basic infrastructure
d. Supporting information technology and communication companies
e. Increasing access to affordable credit
f. Community development programs through Metrobank Foundation and Purple Hearts Club